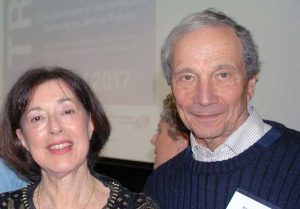 Support for child survivors
Child survivors of the Holocaust carry two roles, survivor and child of survivors; Dr Paul Valent has taken his lived experience and turned it into a positive to help us heal.
Dr Paul Valent is the Founder and past President of the Child Survivors group, Melbourne; Co-founder of the Australasian Society for Traumatic Stress Studies and writer.
Consultant Psychiatrist, Psychotherapist, Specialist in Traumatology, acclaimed Author of numerous papers, relating to the long term consequences of the Holocaust on survivors and descendants, communications and conflicts between the generations.
Paul Valent books
Author of invaluable books on trauma and fulfilment, this comprehensive list includes "In Two Minds" Paul's clinical and personal journey.
Born in Slovakia, Paul survived the Holocaust in Hungary aged 4-7. Paul's early experience led to his interest in trauma and the workings of the mind in both victims and perpetrators. Paul's aim is to heal the consequences of trauma and its prevention.